We have Monday and Tuesday off school this week because of All Saints Day and All Souls Day. These holidays are associated with the Day of the Dead, but it is different here than any other I've encountered before- so different from regular American trick-or-treat world as well as the Latin American "Dia de los Muertos" celebrations and observances you get to know a bit living in Texas.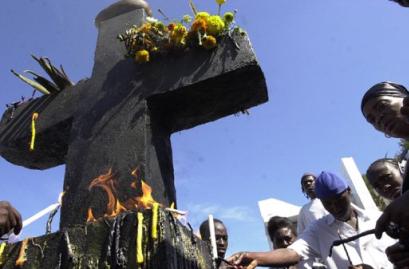 A site called wehaitians.com shows an incredibly fascinating
photo gallery of images from the Day of the Dead in
2003. It's shocking to me, and confusing. It reports that to celebrate the Day of the Dead, people create homemade alcohol with peppers mixed in, and then they
pour it on their genitals.
There's a photo of this in the gallery. Today at
Heartline
(where I have wanted to visit for nearly a year, and finally got to due to the day off school), someone asked a Haitian staff member about this practice, and she said it is true, that people pour pepper sauce (she got out Tobasco from the fridge to make her point) on their genitals and in their eyes. When asked why, she said "because of the devil." She was asked, "to keep the devil away?". She replied, "no, because they want him."
With our 1-year anniversary in Haiti fast approaching, all my ideas of what Voodoo is are second-hand and disconnected snippets. Two weeks ago on the retreat to Seguin I met a man who was all about Voodoo, and who had hung Voodoo art throughout the house. Even after looking at the sequined, patterned hangings and paintings of a black goddess in a cornfield, I don't understand any more clearly. What
exactly
are the beliefs?
I have a friend here who originally came to Haiti to work as a house parent in an orphanage, and the boys he raised there had come from all over Haiti. The boys tell stories of seeing a child eat his own hand after being cursed for stealing crops from a field. The same friend knew of a Voodoo priest who threw his implements in a fire after coming to know Jesus after the earthquake. Many people were present, and they say they heard the last item
screaming
as it burned.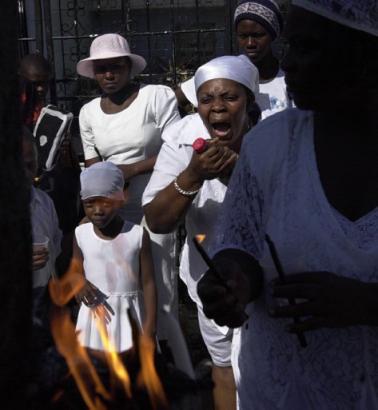 This article, from ehow.com of all places, talks about how
the best celebrations of the Haitian Day of the Dead take place in Port-au-Prince, in the large cemetery in Petionville
(a "suburb" about 10 minutes uphill from us that contains fancier restaurants and shops, plus the good grocery stores). Well, that cemetery is entirely gone now, cleared by the government after the earthquake. One day it was there, row after row of crumbly-looking above-ground crypts, then it was gone. Rumors say the land will be used for a tap-tap station. No one knows. How can you destroy a cemetery? Maybe it's related to the Haitian practice of only
renting
graves, not buying the burial plots?
So even as we don't understand these holidays, we are home for them. No school. A four-day weekend. We had a cook-out at our house church on Sunday. We attended a costume party on Sunday night, a no-scary-costume, redeem-the-day time of community and tasty food that ended in monsoon rains, us all huddled under an awning, watching the little kids splash in puddles.
But, even as we begin to look forward to Thanksgiving, the winding-down semester, and (dare I say it?) the upcoming Christmas holidays in Texas, we are nervously looking ahead to two major events: a hurricane and an election. Tomas is bearing down on us in the Caribbean, having smacked Barbados hard already. It is expected to make landfall as a hurricane on Friday or Saturday. The major questions are how strong the winds will be, and how much water will be dumped on this city. We went to the grocery store yesterday and stocked up on extra liters of water, candles, canned foods, and a full tank of gasoline.
The Haitian presidential election is coming the Monday after Thanksgiving. We see tons of posters everywhere, not to mention Haiti's unofficial election marketing: graffiti. The top names are Manigat (a woman), Celestin (the current president's choice of successor), and Baker (rumored to be the US' favorite). Who knows. Pray for peace, no violence, no crime, no corruption, and His kingdom to come, here on earth, just like in heaven.
Katie